ClearView™ Digitally Enhanced Video Receiver (Patents Pending)
No Smoke. No Mirrors. Iftron's new ClearView Digitally Enhanced Video Receiver both standard analog and more recent digital wireless video solutions.
Iftron's ClearView Digitally Enhanced Video Receiver virtually eliminates most of the problems and shortcomings of today's wireless video systems. Issues like glitches, dropouts, fades, tearing, latency, screen freeze and much more are virtually eliminated or drastically reduced, while ClearView's latency-free technology enhances range and provides a far more robust video link. ClearView achieves these performance gains by employing new, highly advanced (patents pending) techniques in the processing of standard wireless video signals. With ClearView, today's SD transmitters and cameras need not be replaced. ClearView leverages existing wireless video to provide far better and robust reception.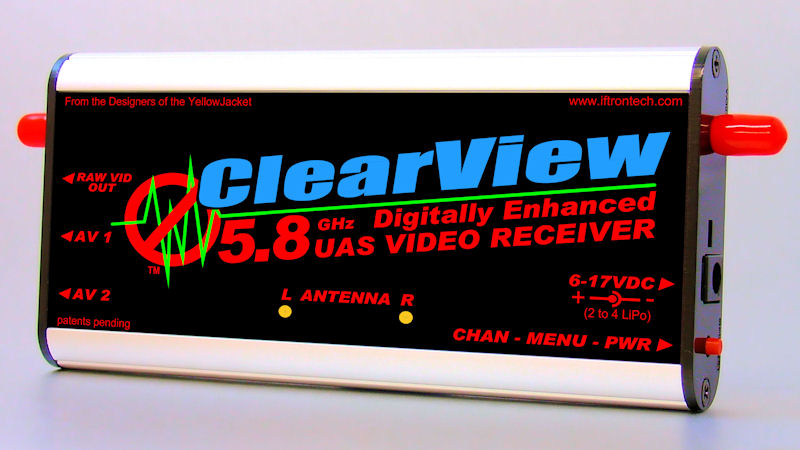 The more you know about video, the more you will appreciate the dramatic improvement that ClearView makes.
(Please click on each item below to learn more about each benefit)
Benefits of ClearView vs. Conventional Analog Wireless Video:
No Glitches
No Dropouts
No Horizontal Tearing
Much Greater Dynamic Sensitivity
More Than Twice The Ultimate Range
Much Higher Immunity to Antenna Effects Such As:
Compatible With Existing NTSC and PAL Video Cameras and Transmitters
Transmission Band Independent
Receiver Side OSD With Live Video Capable
Benefits of ClearView vs. Digital Wireless Video:
No Latency
No Screen Freeze
No Tiling
No 'Falling Off The Cliff'
No Pairing and Re-Pairing Delay
Much Longer Range
Similar Practical Resolution
Transmission Band Independent
Allows Receiver Side OSD with Live Video

ClearView Digitally Enhanced Video, invented and developed by Iftron Technologies, represents an advancement in video signal reception technology on a scale not seen in many decades and moves the art of FPV video and other critical wireless applications to a previously unattainable level of performance.
Please click here to visit the ClearView PROFESSIONAL products page
Please click here to visit the ClearView RACING products page

.
.
.